I'm back with a Breath of Fresh Air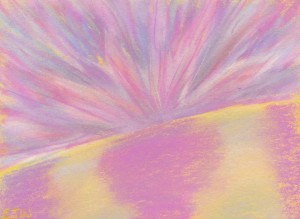 I'm back!
I wasn't really gone, though. I've been working through my projects one by one, and had to prioritize some items. The 52 images in 52 weeks project has been a priority, posting in the blog was not. I'm happy to say… I'm back!… and I have several new images to share with you over the next few weeks.
This first one is "Robin's Explosion: A Breath of Fresh Air'. It's a signature card made for Robin in her favorite colors. If you knew Robin, you'd know she's a bright powerful force and has made some hard decisions in life in order to take her full breath of fresh air. Now, there's no stopping her. Her energy is contagious, I love being around her and she's always shining and smiling…even on the hard days.
On behalf of Robin and visions of sharing some happiness on this Monday morning, I hope you enjoy this breath of fresh air and this new start to a new week. I hope this gives you and those around you some happiness, too.
Thanks for all the smiles and energy, Robin! (And, here's to more to come!)