This page is for all the cool stuff my husband, Matt, creates. It's my space for him…in return for all he does for us. Check it out as he finishes his creations.
---
Matt's 4-level smoker/grill
He made this from ideas, steel sheets and months of hard work. The coolest feature? The electronic temp control that he also makes and configures himself!
Drum Smoker
The smaller version of the big-daddy above. He modifies a 50 gallon barrel drum base and welds the grilling/smoking accessories.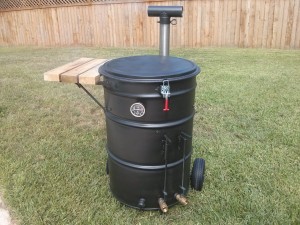 Platform Bed
This king sized bed was made in two parts. Over Christmas, we made the headboard. Then, for Valentine's day, we made the platform bed frame. If we ever want to change the look, we can easily change out the fabric. I love it!