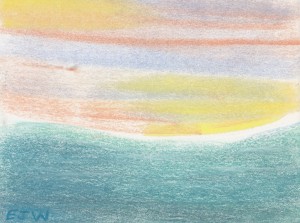 Peace… … … Love
Peace… … … Serenity
Peace… … … Love
Peace… … …
Some days we just need a little peace and calm. Some days we just need 'to be'. I made this image a few weeks ago in the middle of the fireworks, explosions and new year. Now, it's time to be calm, reflect and center all the things happening.
This is the same 4.6″ paper and pastels. It started with the blue wave. Then the lighter blue in the sky and the purple and yellows. It was quick to create, mostly sweaping strokes with just a couple of layers to add some depth to each main area. It reminds me of the beach and the sunset over the ocean.
May you have peace in your life and in your day.
Peace… … … and Love.