I speak about Creativity, Connection, and Change. Contact me at ellen@ellenjennywatkins.com and we'll develop exactly what you need.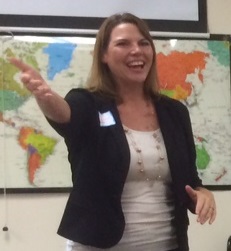 Connecting with people is what life is about and how we learn best. Sharing information with others and helping them move from point A to point B is one of my favorite things. That energy and change is amazing to see and experience.
For over 20 years I've connected people and been a catalyst for change at Fortune 100 companies. I created and facilitated training courses, workshops and multi-day global summits. I've spoken at many different kinds of industry events. I've developed teams, strategies and built global relationships. And, most importantly, I've motivated and coached individuals to think creatively and link their ideas to make better outcomes.
Now, I'm bringing these lessons and skills outside the corporate walls and sharing them with you. If you are ready to foster your creative instincts, connect ideas that didn't seem possible before and build positive relationships, this is your time.
Contact me at ellen@ellenjennywatkins.com for Desire Map Workshops, creativity or change coaching, and if you need a inspiring speaker for your event.
---
Recent Events:
The Story of the 52 Images in 52 Weeks
Podcast with Empowered Women Revolution
What is your 52? That thing that you will do little by little, consistently, sometimes just 5 minutes at a time that will change your life and touch the lives of those around you. This podcast shares the story of reconnecting with my creative side, the trials, tribulations and ultimately how it evolved to today's mission to Create 1 Million Nuggets of Happiness in this World. Because when we connect to ourselves, we connect to those around us… then they take that forward to their communities… and that impacts the world.
Creating Connections
Presented at The Empowered Women's Summit. The first online summit for Quiet Women Entrepreneurs to help find their voice and make an impact on the world.
When we connect to ourselves, we are able to know our Why and connect to others in more meaningful ways. Learn my secret to connection and powerful tips for connecting to others in meaningful ways.
The 3 Tenets for Fostering Creativity
Presented at the first ever Texas Regional, Live Your Legend LOCAL event.
There are 3 overarching themes which develop creativity and creative actions. You receive these top lessons I learned through 20 years of creative jobs, art school and everyday parenting of a vivacious child.
The Process of Change
Presented at SxSWi, at the Oracle Boathouse Event
We all go through it. Some go through it faster than others, and some get stuck along the way. Once you know and understand this scientifically proven 6-step pattern of change, you can see it happening and help others as they go through it, too. This is the must know the pattern to move you, and those you care about, to the next step in their path.
Be the first to hear about new art, workshops and more!