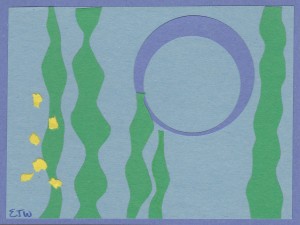 What do you do with your 'box of failures'?
Do you carry them around with you? Do you keep them packed up tight never to look at them again? Or, do you bring them out every time you need attention and a sad story to tell?
During the 10 months of this project – The 52 Images in 52 Weeks Project – I've accumulated a shoe box full of not good enoughs, mistakes, and left-overs. Images that weren't round enough, too jagged in their cuts, not smooth enough, not artistic enough, or just plain ol' mistakes that didn't turn out as expected. There were things that glue bled through, water (or wine) split on them, etc. etc. It was a pretty full box.
Every time I had something left over, I just threw it in the box and didn't pay attention to it again. It was the 'box of failure'. And to some extent, it was my box of shame.
Then, one day a couple of weeks ago, I opened this box and saw something else.
I saw a red piece of paper with some interesting shapes. I saved it, pulled it out of the box of failures and put it aside to work on another day. That intrigued me. I went back a few days later and took time to REALLY look in that box and see what else might be in there. To see what else I discarded which might now be interesting. Over the course of a few days, I went through each item. I remembered the time I tried to glitz up the holiday cards and had to restart. I remembered the time I made the first cards, The Zen Series, and how scared I was to glue it down. I remembered the explosions that got too muddy. And, I remembered all the steps along the 10 months of this project so far. The good, the bad, the ugly. And, the joy.
As I kept looking, I found interesting circles, waves, patterns, negative space images, and many other items I now saw in a new light. There were definitely a few mistakes and I let those go. Really go – I threw them away. It was very freeing.  All the others I saved and organized into a new system in a new box…
'A Box of Possibilities'. And, I'm excited to see what they make next.
What do you do with your box of failures? Are you willing to go through it, do the hard work, and make a new box of possibilities? Maybe you already have?
---
Nature
This is the image that created the new box of possibilities. I found the circle in that box, and liked it's asymmetrical shape and negative space in the center. I immediately wanted to use it for something. I played around with some other scraps and it came together to form this.
It reminds me of walking through nature at night, as you're coming down the path and there's a break in the trees for you view the harvest moon. Maybe there are fireflies lighting your way. Maybe those are reflections from the moon. Either way, you are connected to nature, your spirit and your path. The light is leading the way and you know exactly which way to go.
What do you think?